Ride on the Kettle Valley railway
Hi everybody,
Here are some news about our journey ! As you remember, we were about to start to ride the Kettle Valley railroad (KVR) a few days ago. Now it's done ! This was an amazing experience with lot of good moments but also some hard job to keep on going further ! Anyway, like every time, we only remember the good one and quickly forget the "bad" one !
So the first part was not the real KVR…it's the Columbia and Western railway.
It has brought us from Castlegar to Midway. We spent the first night in a small wild campsite near the railway where we even had our own wild apple tree ! So nice and cozy……
The day after, we were at the summit of the first pass before going down on a beautiful downhill until Christina Lake. We slept near the river (where people come to jump of the cliffs) and saw a big black bear just on the other side of the river…Marie was doing the dishes and didn't see him…..it was funny because he was very close of us ! Anyway, he's more afraid of us than we are now about him ! We left this nice place heading to Grand Forks, small city where the Russian immigrants were so many in the past…Right !? Glen (from Prince George) told us by mail that we had to try and taste the borscht….That's what we did in probably the best and simple place in town….So good ! We both really liked it ! When we entered the restaurant, some people asked us about our trip and finally they offered us our borscht bowl….It was so nice ! Canadian people are so generous ! It's amazing ! After that, we bought some food for the next days and started to go up the next pass..(a small one) but the hill was very hard because of the sandy track….! Finally, we arrived in Greewood where we slept in a small city campground. We were alone…except a bear in the area which was giving some trouble to the leaving people of the town 🙂 And it's true….a few minutes after we were at the table to eat dinner, the darkness arrived and the bear also ! He was just walking around, looking at us and then he chose to go on the other side of the road to try some trash…..Pretty sad to see a bear so used to human….! We put our food in a big bag and hung it up on a small cabin ! We don't now what is the most dangerous thing….the bear himself or when we try to put food in the air ! 🙂
The next day was very windy ! We met a old guy biking all around the world (from Israel) but he preferred to stay on the main road (smart guy…not like us). But the wind was so strong that he fell down on the road….but he was fine ! So we arrived in Midway, the real starting point of the KVR. We got some information about the trail and also bought a book about the history of this railroad, specially about the main engineer Andrew McCulloch and the navvies who worked during 3 or 4 years…very interesting !
Between Midway and Rock Creek, we had a very big surprise and terror…..we saw a rattlesnake ! A real one !!! So incredible for us…we were prepared to see that kind of animals but in Nevada or Arizona…not here !!!! Is it a joke !? Bears…OK ! Wolf….OK….But not OK for snakes ! 🙂
We slept in a BC provincial park just passed Rock Creek. Nice place and nice river ! After that, we went up on the next pass but it was a rainy day so we decided to stop in Arlington Lake with a nice and free campsite ! When we were biking up the hill, we met a couple from Vancouver Island who where biking the KVR but without any camping material. Just starting from motel and biking around on the KVR…. In the evening, they came back up to the Arlington Lake to bring us really good firewood ! A very good and dry one…..So nice ! Thank you so much ! 🙂
Then it was time for Myra Canyon…..AMAZING ! It's just incredible to see what they have been able to build in the past…..This is the prove that when you really want something, you can ! We biked on these Trestle and inside these tunnel ! So cool ! The start of the downhill (which is more flat than downhill by the way) was hard because of a lot of bump and sand ! But the view on Kelowna was awesome ! Finally, after a big day of biking, the night was slowly coming and we were looking for a campsite when we met two hunters who were coming back from a wet day…without any food ! 🙂 They offered us to have a shower in their small cabin and finally, we had dinner together and we put our mattresses on the floor to spend an incredible night ! Thanks guys for this great moment ! As you probably know, hunters wake up early…..So at 7am, we were back on the saddle to go down in Penticton…Johann broke his chain once but we had everything to repair ! We arrived in the middle of this nice town at 10am so we could go to the Tim Horton's to have a great hot chocolate ! Mmmmmh ! After that, we made a gift to our bikes….a tune up session in the best bike shop of the area…(the barn bike) Crazy ! People so nice and so efficient….finally after one hour, our bikes were perfect ! They looked as new as 3 months ago ! We left the city after a litlle bit of food shopping and we biked to Summerland. Over there, we met Ruth who was biking on the KVR. We were looking for a campground when she offered us to tent in her yard ! So nice ! We had a very nice dinner, a very nice moment around the table ! Thanks Ruth ! And in the middle of the night, we also had a free shower (automatic system for the garden)….The tent was soaked in the morning ! 🙂 Anyway, sun was shining so hard that at lunch time, everything was dry !

We kept on going forward to the next pass and we tent just before Osprey Lake near a big dam. The downhill to Princeton is not very interesting except maybe the cows which are running ahead and during 30min….It's not the Kettle Valley….it's the Cattle Valley ! Isn't it !? :-)))
We passed Princeton without any stop and we start the last hill. But after 15km, we met the same couple who gave us some firewood a few days before ! It's a small world ! We talked for a moment then we went on. We found a very nice spot for the night near the river and with a table…Perfect ! The day after, once our bags packed, it starts to rain…..We biked the whole day under showers and finally we arrived in Brookmere before the last downhill (that's what we believed)
The downhill to Hope was supposed to be easy and quick….but we didn't have any book about the KVR or any information about these last kilometers ! So we didn't know about the washed out ahead and the fact that we would have to carry the bikes….Actually, it was a part of the Trans Canada Trail which was only for pedestrians and hikers….. We decided to try and it became a real nightmare ! We had to carry the bike with all the bags, sometime we had to unload them and carry the bags one after the other…..it was hard hard hard ! Finally, we had to stop and spend another night on the KVR…we lost too much time in our adventures. The rest of the downhill was quiet good except that we are not really on the railroad anymore…we're mostly often on roads and tracks of the TCT. But the end was amazing…the othello's tunnels ! 5 tunnels in the rocks with bridges over the river….incredible this part of the KVR ! We had to go back because after the last tunnel, it was impossible to go out…In reason of a washed out ! 🙂 Another one ! So we ended the KVR on the highway 5 ! But it will stay for a long time a great souvenir !
We had one rest night in Hope in a very nice B&B (evergreen B&B) which is the best B&B we have ever seen ! If you go in Hope and need an hotel….think about it ! 🙂
Now we are on Vancouver Island after 3 days spent in Vancouver and one in Whistler. Weather was pretty rainy in Vancouver but now it's supposed to be better until next weekend….We hope so 🙂
We made a movie about the KVR so you can have a look on the youtube link below. Sorry for the comments which are in french but maybe you'll understand the main idea ! And pictures are without any language ! 🙂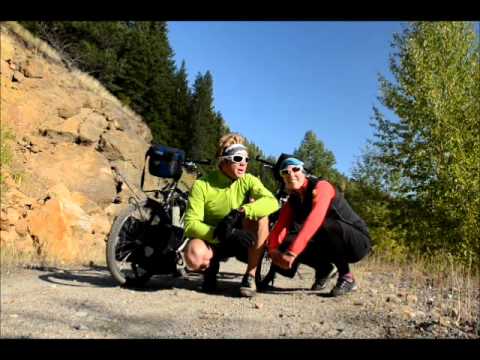 You can also fin a new gallery of pictures available with this link !
We hope you'll enjoy our stories and we would like to thank so hard all the people who helped us, welcomed us and shared their time with us ! You are all part of our adventure which due to you is like a dream !
See you later for new comments about Vancouver and Vancouver Island 🙂
Marie and Johann